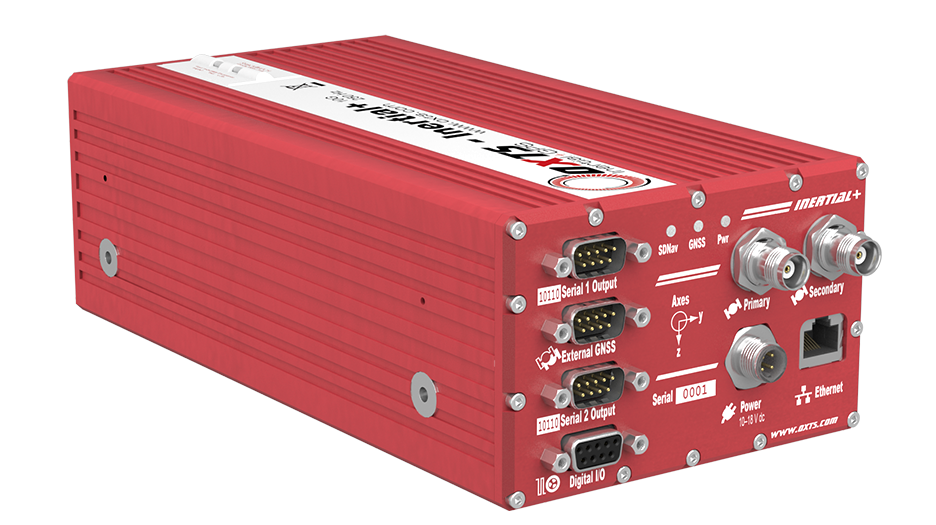 The Inertial+ Navigation System is an extremely price competitive solution for improving measurements from a GPS receiver. Designed as a drop-in component the Inertial+ takes the serial NMEA data from your current GPS receiver, blends it with inertial sensors and outputs the improved data in the same NMEA format. Other input and output formats are supported.
문의하기
Drop-in INS for external GNSS receivers
Inertial navigation system with support for external aiding from GNSS and Locata receivers. Make use of your existing equipment for land, sea, or air applications.
Great performance, great value
Positioning accuracy is dependent on the external receiver, but it's always complemented by a high-grade MEMS inertial system. Since you've already invested in your own receivers and don't have to pay again for a fully integrated RTK INS, the Inertial+ is very cost-effective. It even comes with a comprehensive software suite included, for configuration, post-processing, monitoring and analysis.
Locata support
In addition to the range of GPS/GNSS receivers that the Inertial+ supports, it's also the first and only INS to support external aiding from the local positioning system Locata. With a local network set up, the Inertial+ takes the NMEA output from a Locata receiver and blends it with the inertial data in the same way as with GNSS, to output a complete 3D navigation solution.
| | |
| --- | --- |
| | Uses your existing GNSS receiver (reduced cost) |
| | Real-time, low latency measurement output |
| | 6-axis inertial measurement unit |
| | 100 or 250 Hz update rate |
| | Software suite with post-processing included |
| | Support for multiple vendors inc. Trimble, Topcon, Novatel, and Locata |
| | Integrate with imaging sensors from Riegl, Z+F, Specim, Point Grey, Phase One, and more |
| | |
| --- | --- |
| | Asset management on roads and rail |
| | Direct georeferencing on manned aerial platforms |
| | Mobile mapping with LiDAR, 360 cameras, ground penetrating radar, and others |
| | Anywhere you want to upgrade your existing GNSS receivers with inertial technology |
Receiver type
L1/L2 GPS
Internal receivers
Positioning
RTK
SPS
Positioning Accuracy
0.02 m
3.0 m
Velocity Accuracy
0.05 km/h RMS
0.1 km/h RMS
Acceleration
 
 
– Bias

10 mm/s²

10 mm/s²
– Linearity

0.01%

0.01%
– Scale Factor

0.1%

0.1%
– Range

10G (Optional 30G)

10G (Optional 30G)
Roll/Pitch
0.03°
0.05°
Heading
0.1° (single antenna)
0.06° (dual antenna, 4 m baseline)
0.2° (single antenna)
0.06° (dual antenna, 4 m baseline)
Angular Rate
 
 
– Bias
0.01°/s
0.01°/s
– Scale Factor
0.1%
0.1%
– Range
100°/s (Optional 300°/s)
100°/s (Optional 300°/s)
Update Rate
100 Hz (Inertial+/Inertial+2)
250 Hz (Inertial+ 250/Inertial+2 250)
100 Hz (Inertial+/Inertial+2)
250 Hz (Inertial+ 250/Inertial+2 250)
Calculation Latency
3.5 ms
3.5 ms
Power
10–18 V dc, 15 W
10–18 V dc, 15 W
Dimensions (mm)
234 x 120 x 76
234 x 120 x 76
Weight
2.3 kg
2.3 kg
Operating Temperature
–10 to 50°C
–10 to 50°C
Shock Survival
100G, 11ms
100G, 11ms
Internal Storage
2 GB
2 GB
Operating temperature
-10° to 50°C
-10° to 50°C
Vibration
0.1 g²/Hz, 5–500 Hz
0.1 g²/Hz, 5–500 Hz