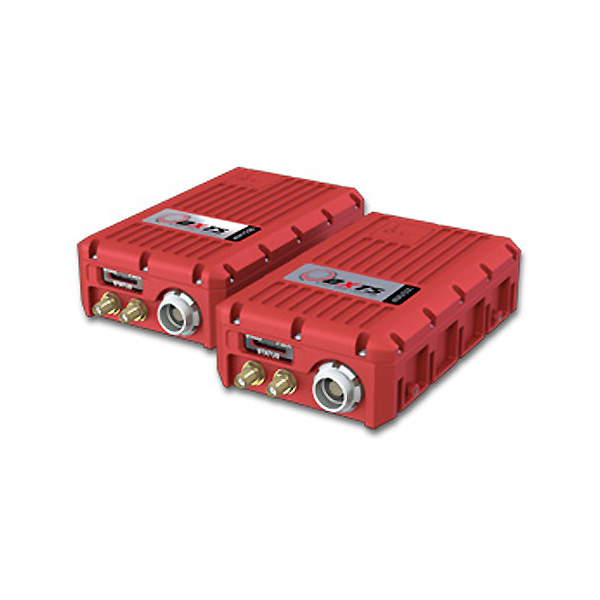 High performance solution for all size and weight constrained applications. Today's unmanned aerial and ground vehicles require compact, lightweight and highly accurate GNSS + INS solutions. We have designed the innovative xNAV to meet these requirements. The system is designed to deliver superior position, roll/pitch and heading data even in challenging operating environments.
문의하기
Small, compact, lightweight
This product is all about size and accuracy. Available from just 365 g, the xNAV fills the gap between light-weight inertial systems that are not accurate enough and accurate inertial systems that are not small enough. In UAVs (unmanned aerial vehicles) the xNAV is accurate enough to give about 1 m pixel accuracy at a height of 1000 m but without dominating the weight allowance of the aircraft.

cm level position accuracy
Tight-coupling, differential GNSS, dual GNSS heading and, of course, fantastic inertial sensors all combined to give great performance. The tight-coupling ensures GNSS measurements continue to be used in difficult conditions. Differential GNSS, either post-processed from a standard RINEX file or logged in real time with a base station, make it easy to achieve sub-metre position accuracy. Combined forward-backwards (in time) processing and the odometer input (for wheel based vehicle use) minimizes the drift when GNSS is not available to 2.5 m in 1 minute or 1 km, surpassing many larger and more expensive systems.
OxTS gx/ix™ technology
If you're working in urban, covered, or other harsh GNSS environments, take advantage of the new gx/ix™ RTK option with the xNAV. With tight coupling you can retain precision even when satellites are blocked and inertial relock reduces time to regain RTK after complete interruptions.
0.1° heading using dual GNSS
Unique in low-weight inertial systems, the dual-antenna GNSS included in the xNAV gives constant heading performance of 0.1°, far exceeding what can be achieved using magnetic sensors and without drift. OxTS has combined the best MEMS sensors available and calibrated them using our world-leading calibration technology. Because we control the inertial sensors and the Kalman Filter, we model each part of the system to bring the optimal solution in a turnkey package.
Turnkey integration
4 GB of data saved internally can be post-processed using the OxTS tool chain. Synchronise with external sensors easily with 1PPS and NMEA GPGGA outputs. A timing input can accurately timestamp camera shutter or other external events and the software will interpolate the 100 Hz measurements to the exact event time. These make it easy to interface to cameras, laser scanners and other sensors.

GNSS/INS board for system integrators
For system integrators looking for a high performance INS to build into a complete scanning and georeferencing system, the xOEM board set offers an attractive solution. Weighing just 165 g it won't add bulk to your system, and with our free and distributable post-processing software you can offer a true turnkey solution at a very competitive price. To find out more about the xOEM products.
Please contact us, if you want more information about the xNAV family.
| | |
| --- | --- |
| | Small, lightweight |
| | Up to 2 cm position |
| | Dual-GNSS: stable heading accuracy |
| | Up to 0.1° heading |
| | 0.05° roll/pitch |
| | Export license free |
| | 100 Hz update rate |
| | Over 24 hour data recording |
| | Timing synch input/output |
| | Tight-coupling |
| | OxTS gx/ix™ technology |
| | Reliable in poor environments |
| | Low drift rates |
| | OEM/integrator packages available |
| | Post-processing suite included |
| | |
| --- | --- |
| | Geo-referencing sensors |
| | Unmanned aerial vehicles |
| | Road surveying |
| | Laser scanning |
| | GIS survey |
| | Aircraft qualification |
| | Motion reference |
Real-Time
Logging Only
xNAV500
xNAV200
xNAV550
xNAV250
Positioning
GPS L1
GLONASS L1 (option)
GPS L1, L2
GLONASS L1, L2 (option)
Positioning Accuracy
2 m SPS
0.5 m DGPS
1.6 m CEP SPS
0.4 m DGPS
0.02 m RTK
Velocity accuracy
0.1 km/h
0.1 km/h RMS
Roll/Pitch
0.05°
0.05°
Heading (2 m baseline)
0.15°
0.1°
Acceleration bias stability
0.05 mg
0.05 mg
Acceleration range
5 g
5 g
Angular Rate bias stability
3°/hr
3°/hr
Angular Rate range
300°/s
300°/s
Measurement rate
100 Hz
200/250 Hz (Optional)
100 Hz
200/250 Hz (Optional)
Operating temperature
-40°C to +70°C
-40°C to +70°C
Specification temperature
-10°C to +70°C
-10°C to +70°C
Power input
10–31 V
10–31 V
Power consumption
7 W
9 W
Dimensions
132 x 77 x 36 mm
132 x 77 x 41 mm
Weight
365 g
425 g
Logging capacity
4 GB
4 GB
Interfaces
Ethernet, Serial
Ethernet, Serial
Dual antenna
Yes
Yes
Note : Specification valid for ±1 g and open-sky conditions
During GNSS outages
| Outage duration | Position mode | Position drift (RMS) |
| --- | --- | --- |
| 10 s | RTK | 0.37 m |
| 10 s | PP | 0.07 m |
| 30 s | RTK | 1.29 m |
| 30 s | PP | 0.33 m |
| 60 s | RTK | 2.79 m |
| 60 s | PP | 0.95 m |
xNAV200
The xNAV200 is a small GNSS/INS system which is ideal for all size and weight constrained applications. The system is designed to deliver superior position, roll/pitch and heading data even in challenging operating environments. 4 GB of on-board storage is available, allowing four days' worth of measurements to be stored internally. The xNAV200 logs data during capture which can then be easily downloaded from the system and post-processed using our advanced software, which is included as standard at no extra cost.
xNAV250
The xNAV250 GNSS-aided INS is ideal for users requiring maximum performance on a tight budget. The xNAV250 uses the same survey-grade dual frequency GNSS receivers and custom MEMS IMU as the xNAV550, for centimetre-level position accuracy and precise orientation and true heading. The only difference is the xNAV250 is a logging only solution allowing users to download data from the system and post-process it with our advanced post-processing software, which is included free of charge.
xNAV500
The xNAV500 is a compact, lightweight GNSS-aided inertial navigation system, perfectly suited for all applications where size and weight as well as performance matter. It measures and outputs position (50 cm), heading (0.15°), roll/pitch (0.05°) and much more in real-time. Your data can also be post-processed later with our advanced software suite, included free of charge. It is ideal for use on UAVs and other weight constrained applications.
xNAV550
The xNAV550 integrates dual L1/L2 GNSS receivers for 2 cm RTK position accuracy. The improved receivers also mean better heading accuracy. The xNAV550 is 5 mm taller than the other models and slightly heavier at 425 g to accommodate to bigger receivers, but still matches the other models for length and width and features the same IP65 rated anodised aluminium enclosure.